MSc J. Amini
PhD student
Signal Processing Systems (SPS)
,
Department of Microelectronics
PhD thesis (Apr 2021): Rate-constrained multi-microphone noise reduction for hearing aid devices
Promotor: Richard Heusdens, Richard Hendriks
Expertise: Acoustic signal processing
Themes:
Audio and acoustic signal processing
Biography
Jamal Amini was a PhD student at CAS, working on the STW project "Spatially Correct Multi-Microphone Noise Reduction Strategies suitable for Hearing Aids". This project focuses on developing strategies for reducing the complexity/battery requirement of binaural noise reduction algorithms, without sacrificing noise reduction performance.
He defended his thesis in Apr 2021.
Rate-constrained multi-microphone noise reduction for hearing aid devices
J. Amini;
PhD thesis, TU Delft, Fac. EEMCS, April 2021. DOI: 10.4233/uuid:54fa083f-5ddf-4b6c-b663-a1b61c6681f5
document
Spatially Correct Rate-Constrained Noise Reduction For Binaural Hearing Aids in Wireless Acoustic Sensor Networks
Jamal Amini; Richard C. Hendriks; Richard Heusdens; Meng Guo; Jesper Jensen;
IEEE Trans. Audio, Speech and Language processing,
Volume 28, pp. 2731-2742, Oct. 2020. DOI: 10.1109/TASLP.2020.3028264
document
Antenna Placement in a Compressive Sensing-Based Colocated MIMO Radar
A. Ajorloo; A. Amini; E. Tohidi; M. H. Bastani; G. Leus;
IEEE Transactions on Aerospace and Electronic Systems,
Volume 56, Issue 6, pp. 4606-4614, 2020. DOI: 10.1109/TAES.2020.2998196
document
Asymmetric Coding for Rate-Constrained Noise Reduction in Binaural Hearing Aids
Jamal Amini; Richard C. Hendriks; Richard Heusdens; Meng Guo; Jesper Jensen;
IEEE/ACM Trans. on Audio, Speech and Language Processing,
Volume 27, Issue 1, pp. 154-167, 2019. DOI: 10.1109/TASLP.2018.2876172
document
Rate-Constrained Noise Reduction in Wireless Acoustic Sensor Networks
Jamal Amini; Richard C. Hendriks; Richard Heusdens; Meng Guo; Jesper Jensen;
IEEE/ACM Trans. on Audio, Speech and Language Processing,
Volume 28, Issue 1-12, 2019. DOI: 10.1109/TASLP.2019.2947777
document
Operational Rate-Constrained Beamforming in Binaural Hearing Aids
J. Amini; R.C. Hendriks; R. Heusdens; Meng Guo; J. Jensen;
In 26th European Signal Processing Conference (EUSIPCO 2018),
2018.
Operational Rate-Constrained Noise Reduction for Generalized Binaural Hearing Aid Setups
J. Amini; R.C. Hendriks; R. Heusdens; Meng Guo; Jesper Jensen;
In 2018 Symposium on Information Theory and Signal Processing in the Benelux,
University of Twente, Enschede, The Netherlands, May 2018.
Binaural beamformer filtering unit, a hearing system and a hearing device
Jesper Jensen; Meng Guo; Richard Heusdens; Richard Hendriks; Jamal Amini;
Patent, US, EP EP 3306956A1, US 20180098, 2018. Assignee: Oticon AS.
document
On the Impact of Quantization on Binaural MVDR Beamforming
J. Amini; R. C. Hendriks; R. Heusdens; Meng Guo; Jesper Jensen;
In Proc. 12th ITG Symposium on Speech Communication,
2016.
document
BibTeX support
Last updated: 28 Jun 2021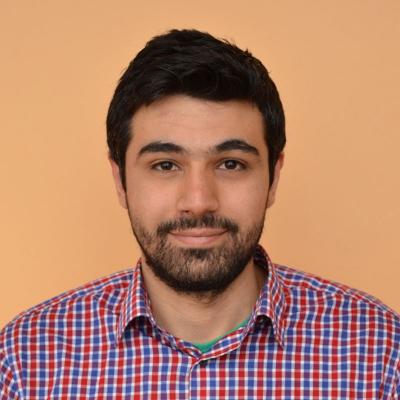 Jamal Amini
Alumnus
Left in 2019
Now: Excite, The Netherlands